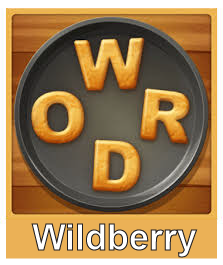 Word Cookies Wildberry Answers Page!
Welcome to the Word Cookies Celebrity Chef Wildberry Answers page! Here you can find all the answers, solutions, and cheats for those tough levels. Scroll down below to find your solution.
Word Cookies is a fun game for those who love word search games. It provides a great outlet to exercise your mind, while having fun. Your goal is to search among the letters to find the correct words.  Careful though only certain word are accepted, which raises the challenge. Sometimes the levels are too hard, but you should not give up! Keep trying and you might surprise yourself, but if all else fails then checkout our site to provide an extra clue.
Level 1: NIT-TIN-TRY-WIN-WIT-WRY-TINY-TWIN-WIRY-WRIT-WINTRY
Level 2: DIE-TED-TEE-TIE-DIET-EDIT-EXIT-TIDE-TIED-EXITED
Level 3: INN-ION-NIP-PIN-NOON-ONION-PINION-OPINION
Level 4: HEN-HER-SHE-CHEF-FERN-HENS-HERS-CHEFS-FERNS-FRESH-FRENCH
Level 5: OUT-TOO-TOT-TOW-TWO-WIT-TOOT-TOUT-TWIT-OUTWIT
Level 6: all ill nill via lain nail vain vial anvil  villa villain nil

Level 7: BYE-ICE-ICY-LIE-LYE-BILE-LICE-CYCLE-BICYCLE
Level 8: SEA-SUE-SUN-USE-AQUA-SANE-SAUNA-NAUSEA
Level 9: CUT-HUT-NUT-TUN-CULT-HUNT-LUNCH-CLUNCH
Level 10: ICE-INS-SEC-SIC-SIN-CINE-ICES-NICE-SINE-SINCE-SCENIC
Attention:

If the answers are different, then post your letters and words found and try to help out your fellow users at the bottom.
Special Level seen see scene
Level 11: BUM-CUB-CUE-ELM-EMU-BLUE-CLUB-CLUE-CUBE-MULE-JUMBLE
Level 12: FUN-MOM-MUM-SON-SUM-SUN-MOMS-ONUS-SUMMON
Level 13: FUN-GNU-GUN-SUN-GNUS-GUNS-SNUG-SUNG-SNUFF-FUNGUS
Level 14: AID-AND-DANCING-DIN-GIN-ACID-NAG-INN-CAN-DIG-GAIN
Level 15: ALE-ELM-LEA-LAME-LAZE-MALE-MAZE-MEAL-ZEAL-AMAZE-AZALEA
Level 16: BIN-BUN-COB-CON-CUB-ION-NIB-COIN-ICON-IONIC-BIONIC-NUB
Level 17: BIB-EBB-LIE-BILE-BLUE-BULB-LIEU-BIBLE-BUBBLE
Level 18: BUR-BUY-BYE-RUB-RUE-RYE-BURY-BUZZ-RUBE-RUBY-BUYER-BUZZER
Level 19: BOB-BOO-BOY-LOB-OLD-BODY-BOLD-BLOOD-LOBBY-BLOODY=BLOB
Level 20: HIS-HIT-ITS-SIR-SIT-SIX-HITS-STIR-THIS-SHIRT-SIXTH-THIRST